About
Limmud (coming from the Hebrew word meaning "to learn") is a conference, a festival, and a gathering of community learners interested in unfiltered or unaffiliated Jewish learning. Attendees come from all walks of life: young adults, singles, families, couples, seniors from all unique Jewish identities and multi-traditional backgrounds.
Over the course of 12 to 24 months a host of Bay Area volunteers work together to produce an early summer festival that takes place over two+ days. The planning of this festival is the heart of what we do as Limmud is produced entirely by its volunteers and participants. Each of the lectures, workshops, art exhibitions, discussions, meals and performances are carefully curated by what we colloquially call "Volunticpators".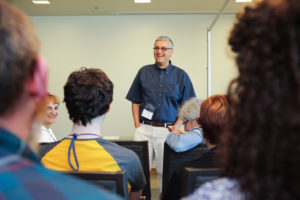 We believe that everyone can be a teacher and everyone must be a learner. We hope that you choose to join us. Come to volunteer. Attend by yourself, with a friend, with a group or with your family. Participate in the Limmud tradition that has proven itself for over four decades in 80 communities worldwide.